About Us
My name is Lori Mikesell and I am the original Crazy Dog Lady and owner of "The Crazy Dog Ladies" Pet Sitting Service. The Crazy Dog Ladies was an idea born when my family was going on vacation and we needed pet care for our four dogs.
We realized not only the expense of boarding four of them, but the extra time in dropping off and picking up (resulting in added costs for extra days), ensuring shots were up to date (finding the shot records!), and despite some great staffs and facilities, a kennel environment is not the same as home sweet home. At that time, my two "old ladies," Trinidad and Tobago, were 91 years old and would have much preferred staying home while their people were away.
It was then that I began to formulate the concept of daily visits to the pet's home to keep them comfortable, cared for and active in their own environment while their family is on vacation. In 2009, fliers were made and the word-of-mouth started to spread. Contact was made with local vets and groomers in Glendora.
Soon, I got my first clients, for weekly visits to the dog park. And so it began. New clients loved the concept and I love the flexibility and feeling that I am doing something good for the pet owners who can have peace of mind while they are away and for the dogs, cats, bunnies, fish and turtles who have a friendly face and a loving care provider while their people are gone.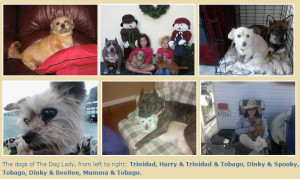 While you are gone…
We will keep your dogs on their regular feeding schedule. Whether they get fed in the morning, at night or both, we are there to ensure your pet's day is as routine as when you are home. Our families love receiving our mid-vacation text or email and picture just to check in and let you know how your pets are doing while you are gone.
We always make sure their water bowls are full and fresh. ​If they get a daily walk, we can do that too! We will make sure their workout routine isn't changed. We are happy to provide a 30, 45, or 60 minute walk. (Additional charges may apply.)
If it's just a quick walk around the block they need, we can accommodate your special requests and customize pricing.
Our favorite thing to do while you are away is pooper-scoopering! You will come home to a clean yard free of waste. Now that's worth it!
Upon Your Return…
We will leave you a "Report Card" to let you know how the "kids" did while you were away. If anything out of the ordinary took place while you were gone, we will note that as well. And of course, we will tell you about all the fun we had!