What's My Passion?  The Story of THE CRAZY DOG LADIES
One day when watching a DVR recording of an "Oprah" show, Oprah was interviewing several successful, young entrepreneurs (including the creator of Zappos.com) and said "do what you love and the money will come." It was advice more about finding your passion than making millions and it made me wonder, "What am I passionate about?"
Another time, I was having a conversation with friends when someone asked "if you could open your own business, what kind of business would it be?"  Some friends immediately knew they wanted to open a gym, operate a child care facility, or a restaurant.  Well, I barely like my own children sometimes (just kidding!) and I have a love/hate relationship with working out so although those were good ideas they certainly were not my passions.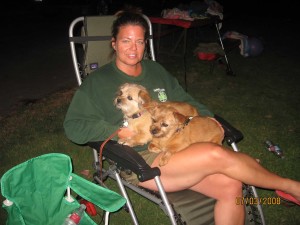 I was surprised, and a bit disturbed, that I wasn't "passionate" about something…how was I going to make MY millions?!
I was so intent on finding my passion that 'finding my passion' practically became 'my passion!'  I determined I would like something that offered flexibility.  Okay.  I love animals.  Okay.  I had accomplished my bachelor's and master's degrees (oh so long ago!) so going back to school to be a vet was not for me at this point in time and not necessarily the field I was looking for but at least now I had some kind of a start in figuring out what I would want to do.
We were planning a family vacation and we needed to figure out pet care for our four dogs.  Our dogs have been boarded before but that was expensive.  Although there were several wonderful facilities around, it was hard to find some place that was not a chain link, concrete pad with little exposure to the outdoors and additional expense for walking if even offered.   At that time, my two "old ladies," Trinidad and Tobago, were 91 years old and would have much rather preferred staying home while their people were away.  It was then that I began to formulate the concept of daily visits to the pets' home to keep them comfortable, cared for and active in their own environment while their family is on vacation.  ​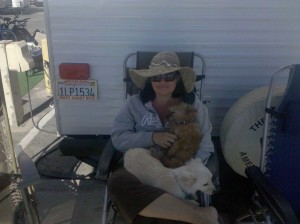 And so it began.  The search for my passion turned into a real business!  The name of the business came easily…I was often called a 'crazy dog lady' when we were camping and I would have three dogs on my lap and one at my feet.  Fliers were made and word-of-mouth started to spread.  Contact was made with local vets and groomers in Glendora.  Soon THE CRAZY DOG LADIES got our first clients; a yellow Lab and Pomeranian, who wanted weekly visits to the dog park.
New clients loved the concept; I loved the flexibility, being outdoors and feeling that I was doing something good for animals.  Their humans could have peace of mind while they were away and the dogs, cats, bunnies, fish and turtles had a friendly face and a loving care provider while their people were gone.
Passion found!  I will let you know when I make my first million!
THE CRAZY DOG LADIES is a locally owned and operated business, licensed and insured, offering full pet sitting and dog walking services.  They offer daily visits for feeding, walking and playing with pets to keep them comfortable in their own home.  For more consistency in companionship, THE CRAZY DOG LADIES also offer overnight pet sitting in your home to keep your animals in their usual routine.  For more information call 626-675-6711, email thecrazydogladies@gmail.com or visit www.thecrazydogladies.com.
/(^.^)\
Lori Mikesell, Owner
THE CRAZY DOG LADIES